Yan Taillon, Ekyrail's new president
Châteauguay, March 2019
Ekyrail Enterprises Inc., specialists in electrical components for the rail industry, is pleased to announce the appointment of Yan Taillon as the Company's new president. With more than 20 years' experience in the industry and specialized in electrical systems for locomotives, Yan succeeds his father Christian, with whom he founded Ekyrail in 2010.
The vision of President Yan Taillon: to strengthen Ekyrail's status as a key player in the railway industry.
The Company is off to a strong start this year with this new transition, as well as the 15,000 square foot expansion of their manufacturing facilities.
Mr. Taillon intends to use his new position to develop innovative products for the rail sector, which has been gaining momentum for many years.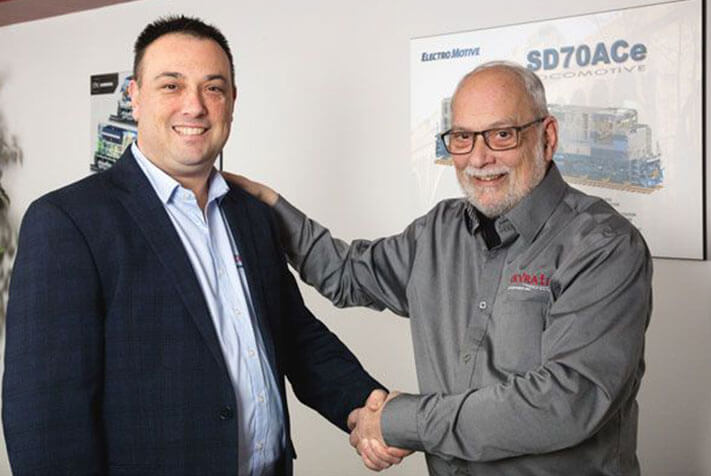 Innovative products for 2019
Well positioned at the helm of Ekyrail, Yan Taillon sees great things for the future. In addition to continuing to offer high quality inverters, high performance electronic bells, battery boosters, cable testers, cab heaters and other equipment for the rail industry, the Company intends to develop new innovative products for the rail industry:
"Our objective is really to redefine all existing products. We want to usher in 2019 by developing essential products for all locomotives," states Yan Taillon, who has built a team of experienced professionals to help with this exponential growth.
Ekyrail: partner to North America's major railway stakeholders
Since its founding, Ekyrail's customers include the largest railways in the United States and Canada.
In his new role, Yan Taillon looks forward to conquering new markets and partnering with several other major rail companies in North America. And combined with their plant in full expansion, Ekyrail plans to continue its growth and become a leader in the rail industry.